AutoSizeDropDownToBestFit is not working when i have 3 rows in the drop down list. Scroll bars appear with i have 3 rows, and when i only 2 rows it autosize the width of the dropdown.
[Code ]
Dim TransData As DataTable = New DataTable
TransData.Columns.Add("Index")
TransData.Columns.Add("Type")
TransData.Rows.Add("0", "-- Select --")
TransData.Rows.Add("SEA", "Ship by Sea")
TransData.Rows.Add("AIR", "Ship by Air")
TransData.Rows.Add("VOR", "VOR by Air")

TransportRadMultiColumnComboBox.DataSource = TransData
TransportRadMultiColumnComboBox.DisplayMember = "Type"
TransportRadMultiColumnComboBox.ValueMember = "Index"
TransportRadMultiColumnComboBox.Columns(0).IsVisible = False
TransportRadMultiColumnComboBox.Columns(1).HeaderText = "Transport"
TransportRadMultiColumnComboBox.AutoSizeDropDownToBestFit = True
[Works when i have only 2 rows in my DataTable]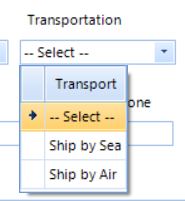 When i add 3 rows to my dataTable the AutoSizeDropDownToBestFit does not work.. WHYYYYYYYY??????