Team,
Dojo ref : https://dojo.telerik.com/@Aswathi/uXoJoSUq
When I edit the calendar value and click on any other row/cell it doesn't get saved. If I click outside it gets saved. I see it's due the property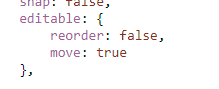 .
If we set it editable:true , it's breaking the reorder functionality.
Is there a way to fix this ?
Appreciate your support.
Regards,
Sujith