Hi,
I am using kendo's Gantt chart. But I unable to achieve few things using the existing Gantt chart features.
Following are the features I request should be provided for Gantt chart:
Multiple tasks/milestones in a row.
Multiple rows for a parent task.
If space is not available in preceding row(s), overlapping tasks should be moved to next row.
User should be able to provide start date for the quarter in a fiscal calendar. Ex: If user give 01st-June as the start date, then Q1 should start from 01st-June. Hence, quarters will be defined as: Q1(June-Aug), Q2(Sept-Nov), Q3(Dec-Feb), Q4(Mar-May)

Refer above image for point 1-4
5. If task label is exceeding the width of the task, then height of the task should be increased to accommodate task label(in other words, text should be wrapped). Also, font-size of the text should be responsive, that is, font-size should be reduced to accommodate entire text in minimum task height.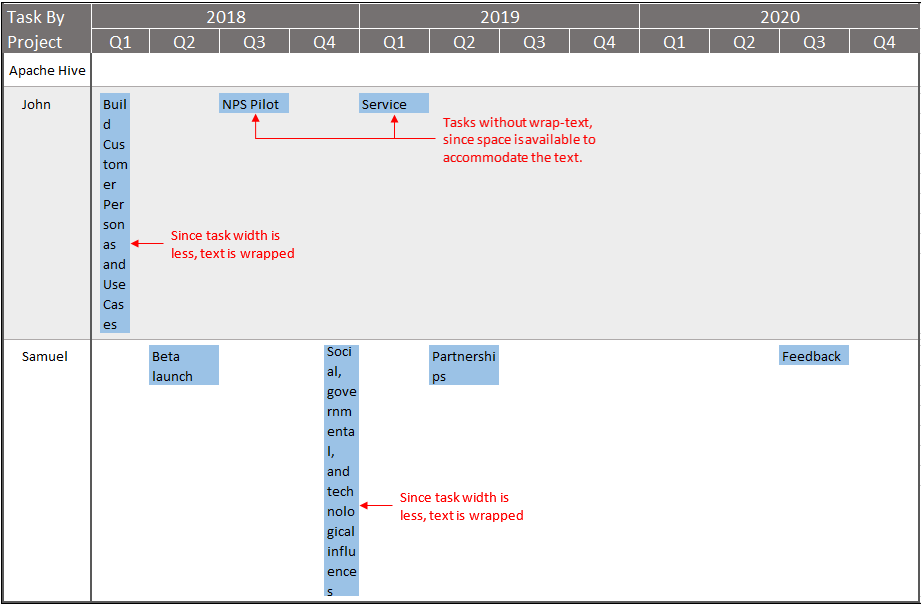 Refer above image for point 5