Hello ,
some of our users noticed that the RadScheduleView control has a weird display bug in timeline mode when
there are a lot of resources and

you enter timeline view after being in month view first and

and the window is rather small.
The following screenshot shows, what the timeline should look like (I used the default Calendar template and added a few more resources and random appointments for each resource by modifying SampleContentService.cs a bit, see comments in attachment, and adding the resources in CalendarView.xaml, l.316):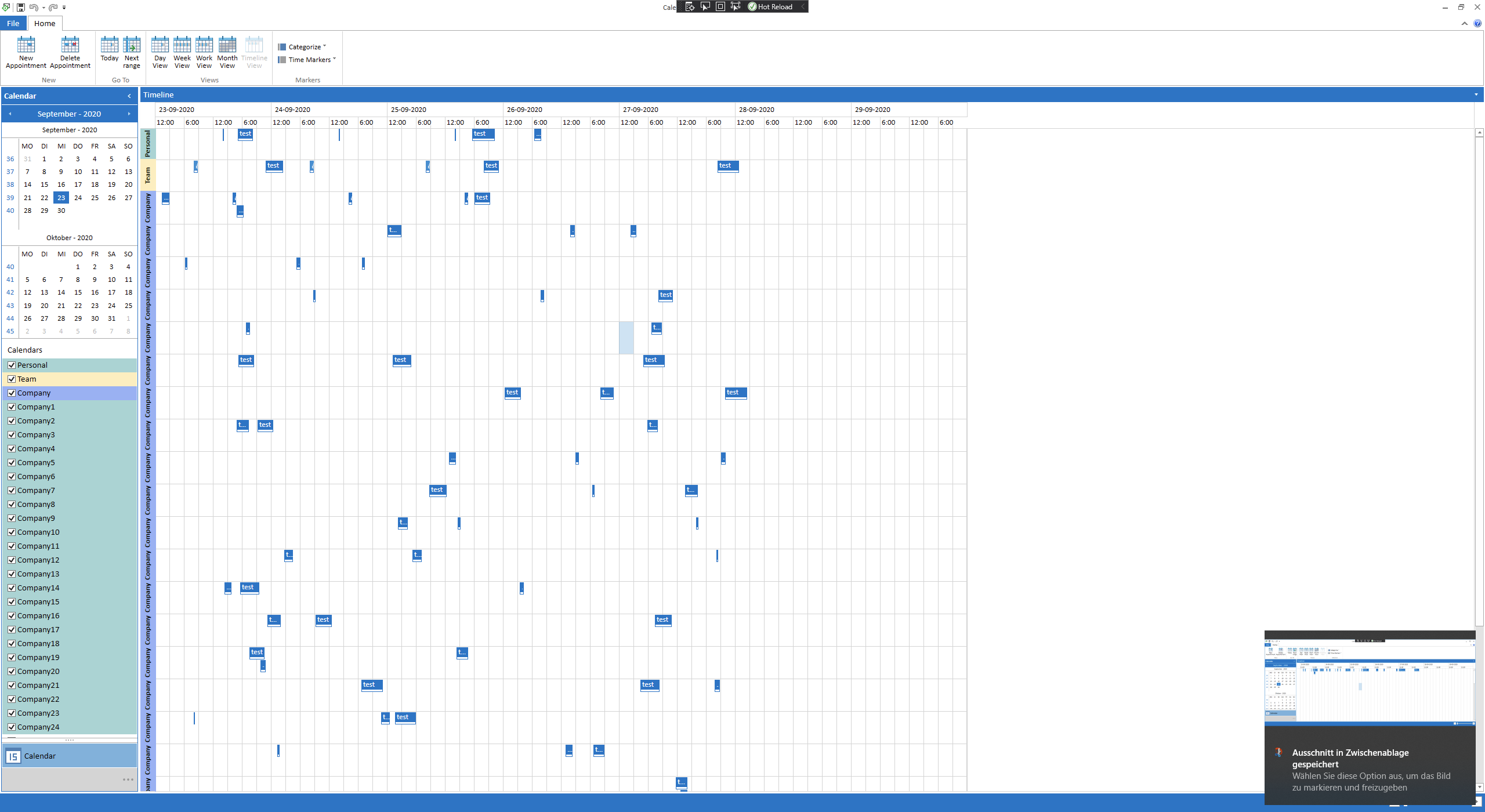 And the following Screenshot shows what the same view looks like under the previously mentioned circumstances. It seems that the resource headers are not rendered anymore and all appointments are stuck to the first row.

Steps to reproduce:
Start the sample project from the attachment.
Check as many checkboxes on the left side as possible
Make the window rather small. I don't yet know exactly when the problem occurs. However, it seems to have something to do with scrolling. For me, the problem occured at a window height where around 7 resource lines would have fit into the scheduleview.

Switch from Day View to Month View
Switch from Month View to Timeline View
The scheduleview should now look as in my second screenshot.
In case it does not look like in my screenshot:
Switch back to Day View (or any other view it seems)
change the window size (probably make it smaller)
Switch to month view
Switch to Timeline View again. Rinse and repeat. Eventually, the display bug should occur pretty reliably.

Whenever this display bug occurs, any change like scrolling, resizing the window, adding an appointment restores the correct layout.

This problem seems to exist in UI for WPF 2020 R2 and R3
If I can provide you with any more information, please let me know.
Regards,
Simon Müller
Hofmann Fördertechnik GmbH