Currently, for some reason - the buttons only exist around the "Today" button in the classic type Calendar.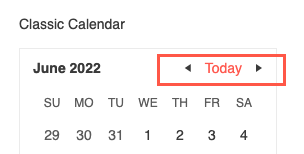 It doesn't pass our UX requirements and actually looks odd - the buttons change month/year yet are around a value that never changes, on the side.

Can we get a template option or a built-in way to have these buttons around the title, like in Kendo jQuery classic Calendar?
The current headerTitleTemplate only allows changing the contents of that title button - and you can't put buttons inside buttons.