Hi,
We are using globalization with UI for ASP.NET MVC to translate control to French (fr-CA). However, while most messages are correctly displayed in French, there are some that are still displayed in English. For example, if we use the Grid control with filter on a 'string' column, the dropdown for the operators shows both French ("Commence par") and English ("Is empty") operators: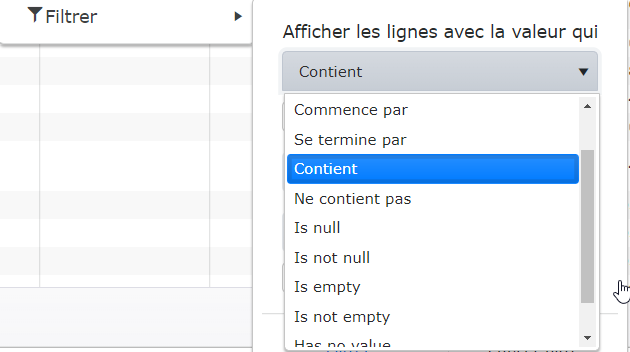 Looking at the source code, we can see that in ressource files "Messages.fr-FR.resx" and "Messages.fr-CA.resx", there are some messages that are still in English (for example, Filter_StringIsEmpty).
Note that corresponding text seems to be correctly translated in jQuery messages file (for example, "kendo.messages.fr-CA.js"), so it might only be a matter of applying the same translation to .resx files.
Note also that the same problem seems to be present in the source code of the latest version (2020.1.114).
Thanks!