I am using the stand alone report designer, connected to a report server.
In the report I am designing, I have several cross tabs. We now want to create the same crosstabs, with additional filtering for the data.
- I copy the existing crosstab, then paste it.
Both cross tabs now reference the SAME row groups. Because of this, when I edit the filters, it just doesn't work. Looks like there are reference issues when the copy / paste is done, not all the objects within the cross tab are getting a new copy.
Original crosstab - it has a row group called "groupName1" :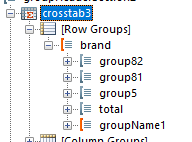 Copied crosstab - same "groupName1" row group - it shouldn't be the same row group object.